The UK's leading dedicated 'Gluten free' frozen food producer
Our Roots
When Pauline and Gary's daughter was diagnosed as being on the Autistic spectrum at the age of 5, they sought advice from a wide range of sources. The advice to remove additives from her food made sense to them. It was also the motivation that drove them towards developing a commercial range of convenient but additive free foods, based on good quality ingredients that tasted delicious. When their daughter was tested positive to Gluten intolerance they went back to the kitchen to develop recipes free from wheat, dairy and gluten.
That passion and those recipes have been brought into Red House Foods so that we can offer a wide range of Gluten, Wheat and Dairy free foods that taste as good if not better than their traditional alternatives.
Our Team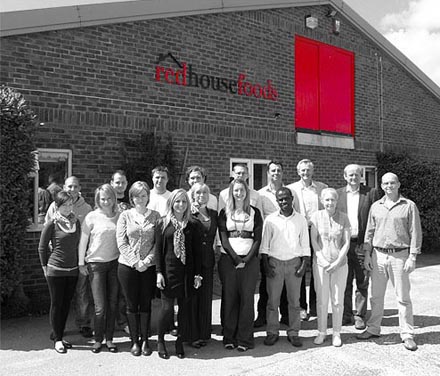 We are a small but dedicated team with a variety of backgrounds. We have considerable experience garnered over many years in both foodservice and retail food environments. What we have in common is a food focus, a total commitment to quality, and a desire to enable those that need, or want to have a gluten-free alternative, to have great-tasting food.
Our Facility
Operating from a dedicated gluten-free site in the heart of Wiltshire, we produce great tasting food without compromise. To make the claim Gluten-free, a product must have less than 20 parts per million of gluten, and our Red House Foods facility is monitored to be below these levels. Our products are audited and verified at a UKAS accredited laboratory to provide that extra comfort and transparency to our consumers. Our production area is entirely nut free and we have dairy-free capability.
We operate strict standards in terms of supplier and ingredient approval, including complete ingredient traceability, and our beef and chicken is quality assured.